Campionessa Rumena Cum Laude / Campionessa Rumena Cum Laude
Campionessa Rumena / Romanian Champion
Campionessa Sociale Rumena / Romanian Club Champion
Portoguese Champion / Campionessa Portoghese
Mediterranean Winner 2008 / Mediterranean Winner 2008
Lisboa Winner 2008 / Lisboa Winner 2008
San Marino Champion / Campionessa Sanmarinese
Alpe-Adria Winner 2008 / Alpe Adria Winner 2008
Champion of France 2008/ Campionessa di Francia 2008
Junior Italian Champion / Giovane Promessa E.N.C.I.
Junior Gibraltar Champion / Giovane Campionessa di Gibilterra
Junior Romanian Champion / Giovane Campionessa Rumena
Junior Romanian Club Champion / Giovane Campionessa Sociale Rumena
Junior Dracula Dog Show Winner 2007 / Giovane Campionessa Dracula Dog Show 2007
Junior San Marino Champion / Giovane Campionessa Sanmarinese
Winner of the Mediolanum Trophy 2007 / Vincitrice del Trofeo Mediolanum 2007
Top Winning Schnauzer in Italy 2007 / Lo Schnauzer più vincente in Italia nel 2007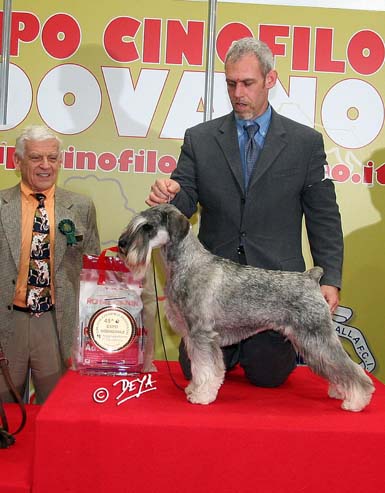 in foto con l'handler Richard Hellman

Ch. Art Platinum Lavsoniya Amor di Schnauzer
"Wodka"
Go and visit her new page



Vai a visitare la sua nuova pagina










NEW CHAMPION
Junior Champion of Ukraine / Giovane Campione Ucraino


Amor di Schnauzer Repetita Iuvant
"Petia"
Exported to Galyna & Valeriy Slipchenko
Grey Tetis Kennel - Ukraine











NEW CHAMPION
San Marino Jr. Champion / Giovane Campionessa Sanmarinese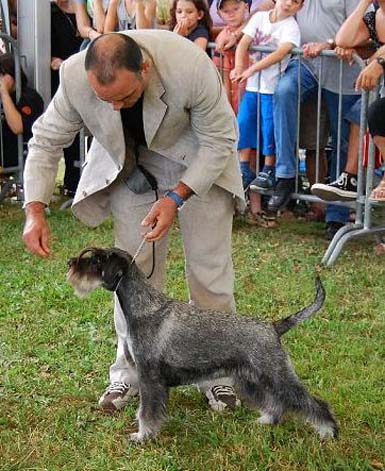 Jr. Ch. Amor di Schnauzer Rose Rosse
"Fiamma"
Pictured at 13 months

Congratulazioni Sara e Sergio










Zagreb Winner 2008
Central Eastern European Cup Winner 2008
International Champion / Campione Internazionale
Slovenian Champion / Campione Sloveno
Junior Italian Champion / Giovane Promessa E.N.C.I.
Top Junior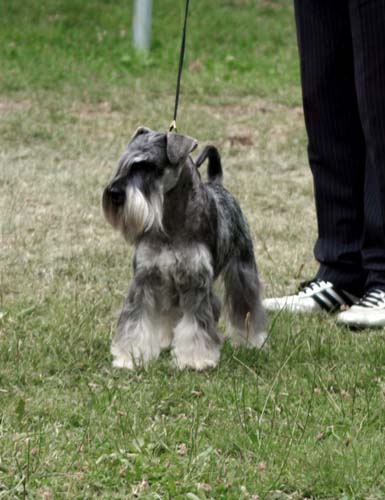 foto: Del Paso Adelante Kennel
Ch. Amor di Schnauzer Midnight Flash
"Flash"
Go and visit his new page



Vai a visitare la sua nuova pagina










Danish Champion / Campionessa Danese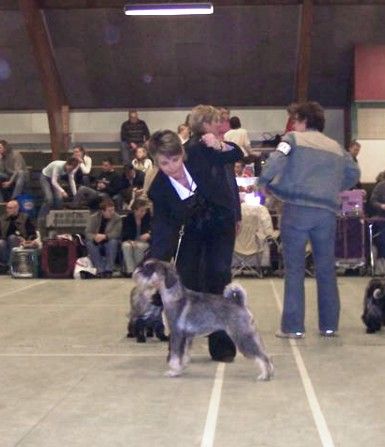 Ch. Amor di Schnauzer Julia Roberts
"Luca"










1 x BIS - 1 x BIS3Jr - 1 x BOG - 1 x BOG2
Giovane Campione Europeo / European Junior Champion
Giovane Promessa ENCI / Junior Italian Champion
Top Junior
Campione ENCI dell'Anno / ENCI Champion of the Year
Campione Sloveno / Slovenian Champion
Campione di Gibilterra / Gibraltar Champion
Campione Internazionale / International Champion
Campione Rumeno / Romanian Champion


Campione Sociale Rumeno / Romanian Club Champion


Qualificato Crufts 2009 / Qualified Crufts 2009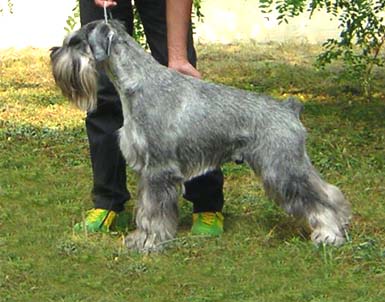 Multi Ch. Amor di Schnauzer Lupus in Fabula
"Lupus"










Campione Russo / Russian Champion
Campione Bielorusso / Belarus Champion
Campione di Latvia / Latvia Champion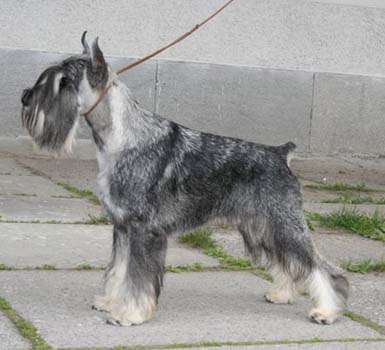 Ch. Amor di Schnauzer Orlando Furioso
"Tema"
Congratulations Svetlana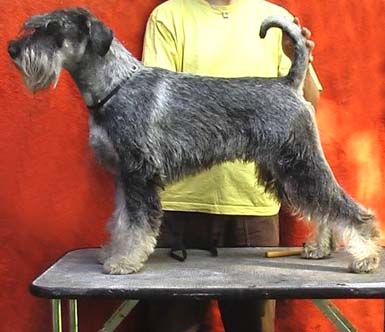 Jr. Ch. Amor di Schnauzer Rikki Tikki Tavi
"Rikki"
Exported to Mr. Guillaume Cadoret
Laouen-Ki Kennel - France